Gastronomy in Catalonia
       If you enjoy good meal, whether innovative and creative or traditional and popular, Catalonia is the right country for you. Such worldwide famous cooks as Ferran Adriá, Santi Santamaria, Carme Ruscalleda, Joan Roca, Fermí Puig, Sergi Arola and Carles Gaig – they all have converted Catalonia into the territory with the biggest quantity of Guide Michelin's stars per person in the whole world.
      If what you are searching for are the recipes, refined by time and history, kept with a steady hand by some responsible and effective cooks and cooked with the most exuberant ingredients of the Mediterranean cuisine, then go to any of our cities or villages and you will surely find gastronomically cosy places there.
      You will visit restaurants, where they will serve you traditional Escudella amb carn d'olla (Meat soup), that is more than just one dish, it is a complete menu; l'arròs negre (black rice) of Costa Brava is a version of paella, only blackened with the squid ink; el suquet de peix (fish soup), a cheap dish, that previously used to be cooked and eaten by fishermen, but nowadays it has been converted into the gastronomical icon of high class catalan people. Or the traditional botifarra (catalan sausage), accompanied with small and delicious beans of Santa Pau.
      Do not be surprised to find mushrooms as your side dish – there is real passion for the mushrooms in Catalonia. But not only for the tasting reason– the time of mushrooms gathering represents a challenge, in front of which a real Catalan will never retreat. Here we do not gather mushrooms, we hunt them! During autumn and winter months thousands of townspeople, dressed like Clark Gable in the movie "Mogambo", pass through the forests. Gradually going farther and farther from the urban zone, they run after the mushrooms, which have not developed yet the ability to escape from people running. But if the things continue in this way, everything can happen.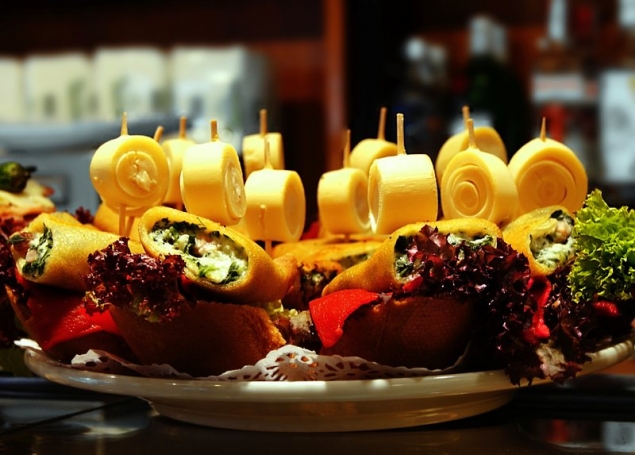 One of the XIX century travellers affirmed that "Catalonia, seen at the beginning of a trip around Iberian Peninsula makes the effect of aperitif, when seen at the end of the trip, it is like some delicious dessert". In Catalonia we find a lot of pleasure in sweet things, starting with the sweet meat sausage, which can be eaten both raw or cooked.
     It is already difficult to find traditional confectionery's shops in Catalonia, but we enjoy the ones that we have. The famous ones are Foix de Sarriá and Escribà de Barcelona, or if you go to the upper land of Berguedà, there is one not so famous, but not less delicious - El Globus de Gironella. Basically, the most popular products are panellets and xuixos. The panellets are buns of marzipan, covered with cedar nuts, and they are traditionally eaten on All Saints Day. But their price is so high, that it seems that confectioners have covered them with pure gold. If you are a shareholder of "Gasprom" or "Lukoil" and your budget affords you to buy one, do not eat it – better, put into a frame. As for xuixos, they are made of paste, filled with cream. They are much more accessible and are consumed in a habitual way by the people, who have a sweet tooth . They are easily identified by the rests of sugar around the mouth, greasy fingers and the trace of happiness they leave behind.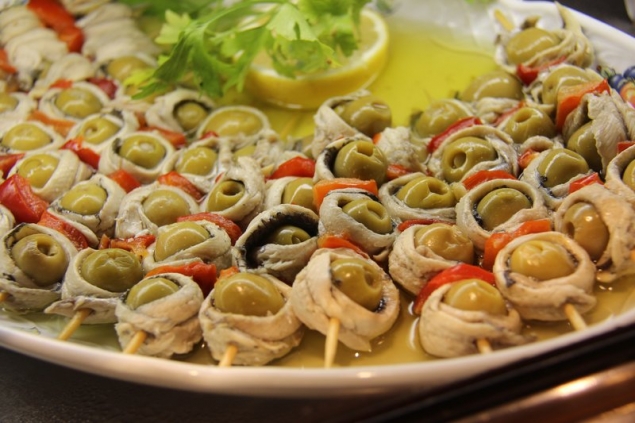 In Catalonia you find yourself in the dominion of bread Europe and the maximum expression of this culture is the cult of bread with tomatoes (pa amb tomàquet). It is a sacred tradition, a ritual, that would be difficult for you to understand, if you did not settle here five generations ago at the minimum. The bread should be from the rural area, cut into big pieces and a little bit toasted. Not all tomatoes serve for it – they must be of а special kind. Bread must be smeared only on one side, and salt must be applied just before the oil. Any other thing, that you can put over – no matter if it is ham, anchovy or caviar – will only accompany, but must not disguise the taste of bread and tomatoes. Any variation in this basic ritual of our culture will deserve contempt and ostracism. And such person is never going to be introduced to the closed circles, where they issue certificates of gourmand, which belonging to our tribe.
Xavier Cristófol